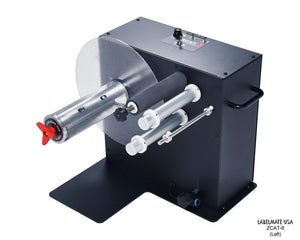 ZCAT-8 Rewinder (Max. Media Width 8.5", Max Roll OD 12")
Rewinder with Adjustable Tension Control for roll media up to 8.5" wide and roll diameters up to 12". 
Description
ZCAT-8 Tensioning Rewinders are the ideal solution for sensitive inkjet printers that back-feed and/or that don't like being tugged-on by a Rewinder. With the ZCAT-8, the printer doesn't even know that the Rewinder is there. A free-hanging loop of material forms between the printer and the Rewinder and an optical sensor on the Rewinder starts and stops the rewind action in conjunction with the printer. Fully adjustable tension control on the Rewinder assures that the finish roll is tight and the roll edge flush. Choice of orientation for the RIGHT side of the printer or the LEFT side of the printer.
Compatible with Epson's C6500A Printer.
Max. Roll Diameter: 12" (305mm)

Max. Media Width: 8.5" (220mm)
Core Diameter: 3" (76mm)
Position: Your Choice of Left or Right Side of Printer
Core Holder: Mechanical Chuck
Size: 22"×22"×22" (

560x560x560mm

)
Weight: 51 lbs. 

Item #: 80-203-0081