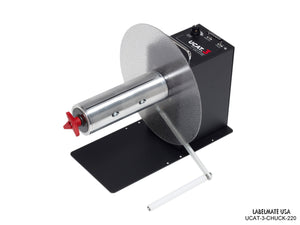 UNI-CAT-CHUCK-220 Universal Rewinder/Unwinder (Max. Media Width 8.5", Max. Roll OD 12")
Universal "Smart" Rewinder/Unwinder for media up to 8.5" wide and roll diameter up to 12".
Description
The new UNI-CAT Rewinder/Unwinder is the most intelligent and universal Winder in the LABELMATE product line, and can be used as both a Rewinder and an Unwinder. The UNI-CAT synchronizes with the printer and automatically and imperceptibly changes direction with the printer. This makes the UNI-CAT the ideal companion for printers that back-feed or that are tension-sensitive. In addition, the UNI-CAT is self-teaching and automatically matches the speed of the printer without the need of any operator intervention. The UNI-CAT also senses when the end of roll is reached and automatically stops rewinding. The rugged, heavy-gauge steel construction of the UNI-CAT enables it to be simply set in place in the desired position. Special anti-slip feet prevent the unit from moving. With various core sizes, label widths, roll diameters and options to choose from, there is a UNI-CAT Winder to fit virtually any job you may have.
Compatible with Epson's ColorWorks C6500A Printer
Max. Roll Diameter: 12" (305mm)
Core Diameter: 3" (76mm)
Core Holder: Mechanical Chuck
Max. Media Width: 8.5" (216mm)
Bi-directional "smart" Rewinder/Unwinder – Synchronized with Printer
Automatic responsive speed control – Synchronized with Printer
Speed up to 50 inches/sec (125cm/sec)
Rewind tension control
Automatic stop at end of roll
Full 5-Year Parts & Labor Limited Warranty
Size: 20"x20"x11" (508x508x280mm)
Weight:

 

33 lbs. (14.9 kg)

Item #: 80-203-0084